Speech of Thiru. TR Baalu, Hon'ble Union Minister of Environment & Forests at the Conference of Environment and Forests Ministers of States
---
New Delhi , May 16, 2000
Thiru. Atal Bihari Vajpayee Ji, Hon'ble Prime Minister of India, Thiru. Babu Lal Marandi Ji, Hon'ble Minister of State for Environment & Forests, Hon'ble Forest and Environment Ministers of States and Union Territories, Thiru. Vishwnath Anand, Secretary, Environment & Forests, Officers of the State Governments and representatives of the print and electronic media, Distinguished Guests, Ladies and Gentlemen,
I deem it a privilege to welcome the esteemed Prime Minister to this Conference of Forest and Environment Ministers. Sir, under your dynamic leadership, the Indian economy has now started to take off and the world is beginning to take note. Indeed, India registered one of the highest rates of growth in the world last year. While we are proud of this achievement, we are also conscious of the fact that rapid economic development runs the inherent risk of imposing severe strain on the environment. My Ministry has convened this conference of State Ministries to focus attention on an Agenda of Action for ensuring sustainability of the developmental process.
Nature has been bountiful to our Motherland which is now recognized as one of the 12 mega diversity centres of the world. Western Ghats and North East Himalayas have been included in the 18 identified hot spots in the world. We have been able to conserve our natural environment through centuries because of our long tradition of living in harmony with nature and it is our sacred duty to ensure that this great heritage handed down to us by the previous generations is not lost to the future generations. Keeping this in view, protection of environment has been enshrined in our Constitution as a duty of both the State and the citizens. A number of legislative measures have been taken already for conservation of forests and wildlife, prevention of air and water pollution and protection of environment. The latest in this series is the Bio-diversity Bill which was introduced in the Parliament yesterday.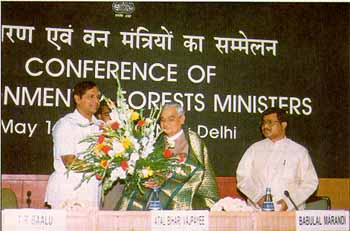 Hon'ble MEF and MOS welcoming Hon'ble Prime Minister of India at the Conference of Environment and Forests Ministers of States in New Delhi
I would like to bring to your notice the position that we have been taking in international fora on some important issues affecting the environment.
Recently, there was a political mission from CITES which visited India and after a perfunctory assessment made some sweeping allegations about weakness in enforcement against poaching by some States. Our official delegation to the recent CITES Conference in Nairobi was able to controvert the assumptions of the mission and the report was rejected. I would, however, like to seek an assurance from the Ministers who represent tiger States that they will further renew their efforts for preserving the tiger, which is a keystone species of our bio-diversity.
In international climate change negotiations, India has consistently been maintaining that the developed countries must fulfil their commitments for green house gas reduction. I have again made it clear that India will not accept any commitment outside the framework of the Kyoto Protocol.
In the Fifth Conference of the Parties of the Basel Convention held in December, 1999, India has clearly enunciated its position that transboundary movement of hazardous wastes should only be governed by the capability of individual countries to handle such wastes in an environmentally sound manner and any other restrictions would not be compatible with the objectives of the Convention.
Rapid economic development, especially in the areas of industry and infrastructure, calls for efforts to guard against any possible adverse impact on environment. Already, environmental clearance has been made mandatory for 30 categories of development projects. We, however, feel concerned that quite often the conditions of environmental clearance are violated by many of the project authorities. It is felt that there is a need to strengthen the monitoring and enforcement mechanism. We are presently exploring the ways and means of doing this. Though the Hon'ble Supreme court of India has pronounced that the "Pollutor Pays Principle" and the "Precautionary Principle" are part of the Indian law, the pollutors and those who cause damage to the environment are still able to get away without paying full compensation for the pollution and environmental damage caused by them. This has to change and we are determined to change it.
The Ministry of Environment and Forests has drawn up an Agenda of Action which is a mix of programmes for conservation of environment, especially protection of fragile eco-systems, and stringent measures for preventing pollution. As a part of this effort, we have identified a number of thrust areas which will be the main focus of the deliberations of this Conference.
The extensive damage caused by the Orissa Cyclone partly due to the destruction of the mangrove forests along the coast and pollution and depletion of ground water resources in many parts of the country are pointers to the daunting task faced by us. We realize that these are problems which cannot be solved by government machinery alone. Our endeavour will be successful only when sustainable development becomes an article of faith with every citizen of the country. I hope this Conference will be able to draw up a road map for this.
Once again, I would like to extend a very warm welcome to our esteemed Prime Minister, the Hon'ble Forest and Environment Ministers of States and Union Territories, Officials of the State Governments and representatives of the print and electronic media.
Thank you.