Prime Minister, Shri Atal Bihari Vajpayee's Inaugural Address at the Conference of State Environment & Forests Ministers
---
New Delhi, May 16, 2000
My Cabinet colleague, Shri T R Baalu, Minister of State, Shri Babulal Marandi, State Environment & Forests Ministers, Ladies and Gentlemen,
It gives me great pleasure to be with you today and share some of my thoughts on environment-related issues. These are fast occupying the centre-stage of national as well as international concern.
This is not without reason
For, in nations across the world, human development in the 21st century will be increasingly linked to protecting environmental resources from mindless consumption and destruction. Maintaining ecological balance, already rendered fragile by the excesses of the 20th century, will be integral to development programmes. India cannot be an exception.
The devastation wrought by the drought in several parts of our country is a manifestation of the ill effects of excesses that have resulted from flawed development strategies. In the name of development and modernity, these strategies have destroyed traditional life-sustaining structures and systems for short-term gains.
Let me give you an example
An elaborate rain water-harvesting system that had been created centuries ago in Rajasthan after carefully mapping the terrain has been destroyed to facilitate wide-scale mining, licenses for which were issued by the Government.
Seen from the narrow perspective of development models that seek to deliver instant jobs and immediate wealth, these mines were a boon for the people living in what is among the least developed regions of the country. The Government was happy; the contractors were happy; the people were happy.
Years later, we find vast tracts of Rajasthan, including areas once served by the traditional viaduct, in the grip of a severe drought.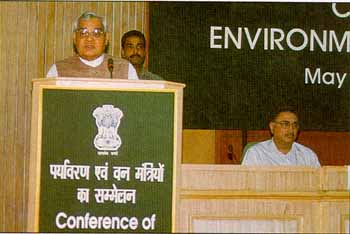 Hon'ble Prime Minister Shri Atal Bihari Vajpayee giving his inaugural speech at the Conference of State Environment and Forests Ministers in New Delhi
True, the ancient water harvesting system that I refer to, alone may not have been able to prevent the drought. But, surely, it could have minimized the impact and mitigated the suffering of the people.
The point I am stressing is that let us not destroy traditional life-sustaining structures and systems that exist. Let us preserve them and, indeed, further strengthen, and add to them, to secure sustainable development.
The results may not be instant, but they will benefit future generations and protect them from hunger and disease. They will also prevent the loss of their livelihood, which is often dependent on their cattle wealth or a patch of land that supports sustenance farming.
Here I would like to cite the example of Palamau district in Bihar where pani panchayats have been set up to harvest water and manage watersheds. With the help of traditional structures and modern scientific inputs like which crop needs how much water, a drought-prone area has witnessed remarkable changes and is now set on the path of sustainable development.
While on this issue, I would like to draw your attention to the 1992 Rio Conference that acknowledged the need to synergise economic development with environmental resources. Government has been trying to synergise the two – and we have succeeded to an extent – but a lot more remains to be done.
After all, no development activity that severely depletes our natural resources or degrades our environment can ultimately benefit the people.
We need to address the environmental concerns while preparing development policies. Project evaluation should not be based on financial cost-benefit analysis alone.
This is no doubt a difficult task. With our population crossing one billion, the demand on resources and infrastructure can be well imagined. The Union and State Governments are under ever-increasing pressure to generate an ever-larger number of employment opportunities through rapid economic development.
Therein lies the trap
Often, in our haste to deliver, we overlook the long-term impact of development projects – be they industry or infrastructure related, or the expansion of the frontiers or urban India – on the environment. As a result, today's success turns into tomorrow's failure.
The lesson that stares us all in the face is simple in its starkness: Rapid population growth, coupled with rapid urbanisation and rapid development that does not take into account ecological factors, invariably leads to rapid depletion of our natural resources and equally rapid degradation of our environment.
We can ignore this reality at the cost of the future of our people.
For their sake, and the sake of future generations of Indians, we have to start emphasizing restrained resource utilisation so that our ecological integrity is not impaired. Let us prove that contrary to general belief, environmental conservation accelerates, rather than hinders, economic development.
The importance of environmental conservation is brought home with unerring effect every time we face a calamity or natural disaster. Last year, it was underscored by the super-cyclone that ravaged coastal Orissa.
Ironically, it is nature that showed us how to face nature's fury: Areas with mangrove vegetation suffered comparatively less damage. The lesson was not wasted. The Environment Ministry has identified protection, restoration and regeneration of mangroves as a thrust area.
The Orissa calamity has also highlighted the need for urgent measures like shelter-belt plantation along cyclone-prone coastal areas. Species chosen for this purpose should not only be able to withstand the impact of strong cyclonic winds, but also check soil erosion. State Governments should come forward with schemes for this purpose. The Ministry of Environment and Forests will support the State Governments in implementing these schemes.
Friends, protecting our environment does not necessarily mean putting a stop to development activity, nor does it mean putting a halt to progress. We have to look for pragmatic solutions to problems posed by development projects. We have to bear in mind their long-term impact on the environment and ecology of the region, the State and the nation.
Therefore, our model has to be one that ensures sustainable development.
In short, we have to balance progress and consumption with conservation of resources.
This will be possible if we make environmental security a national mission, a movement that involves the people. Voluntary associations, through people's participation, have successfully handled many a conservation project. Chipko is an example that all of us are familiar with.
It is only when we give people a direct stake in protecting environment – be it watershed management, forest conservation or pollution control – they will become active partners of Government. To achieve this goal, I propose a sustained awareness campaign that involves panchayats, community organisations, voluntary associations municipal bodies, corporate sector and educational institutions.
Together, we can overcome the challenge that we face – a challenge exemplified by the fact that in as many as 20 river basins, people face a water shortage. For a nation whose civilisational history is rooted in the banks of her rivers, nothing could be more devastating.
I look forward to fruitful deliberations at this conference of State Ministers of Environment and Forest on challenges that we face and possible responses to present and future problems.
Jai Hind!