Hotspots of Biodiversity
---
Dr G V Sarat Babu, Joint Director and Dr (Mrs) Sujata Arora, Deputy Director, MOEF, New Delhi - 110 003
INDIA—A MEGA BIODIVERSITY COUNTRY
India is one of the 12 mega biodiversity countries of the world. The country is divided into 10 bio-geographic regions : Trans-Himalayan, Himalayan, Indian Desert, Semi-Arid, Western Ghats, Deccan Peninsula, Gangetic Plains, North-East India, Islands and Coasts, and this diversity creates rich biodiversity in the country. The wide variety in physical features and climatic situations have resulted in a diversity of ecological habitats like forests, grasslands, wetlands, coastal and marine ecosystems and desert ecosystems, which harbour and sustain the immense biodiversity. With only 2.4% of the total land area of the world, the known biological diversity of India contributes 8% to the known global biological diversity. Currently available data place India in the tenth position in the world and fourth in Asia in plant diversity. In terms of the number of mammalian species, India ranks tenth in the world; in terms of the endemic species of higher vertebrates, it ranks eleventh. It stands seventh in the world for the number of species contributed to agriculture and animal husbandry.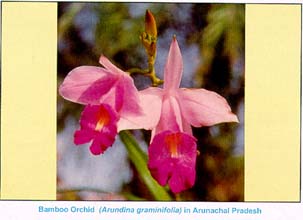 CONSERVATION OF BIODIVERSITY IN INDIA
Conservation and sustainable use of biological resources based on local knowledge systems and practices is ingrained in Indian ethos and way of life. Initiation of policies and programmes for conservation and sustainable utilisation of biological resources date back to several decades. As a result, India has a strong network of institutions mapping biodiversity and undertaking taxonomic studies. The Botanical Survey of India (established in 1890) and the Zoological Survey of India (established in 1916) are primarily responsible for survey of flora and fauna. The National Institute of Oceanography and several other specialised institutions and universities further strengthen the taxonomic data base. Based on the survey of 70% of the total geographical area of the country, 46,000 species of plants and 81,000 species of animals have been recorded so far. These life forms are actually and potentially important for developments in the fields of food, medicine, textiles, energy, recreation and tourism. The areas not yet surveyed include the inaccessible Himalayan area, Andaman and Nicobar Islands and Exclusive Economic Zone. These areas are expected to be rich repositories of endemic and other species.
In-situ conservation
Approximately 4.2% of the total geographical area of the country has been earmarked for extensive in-situ conservation of habitats and ecosystems through protected area network of 85 National Parks and 448 Wildlife Sanctuaries. The results of this network have been significant in restoring viable populations of large mammals such as tiger, lion, rhinoceros, crocodiles, elephants etc.
To conserve the representative ecosystems, a Biosphere Reserve Programme is being implemented. Ten biodiversity rich areas of the country have been designated as Biosphere Reserves.
Programmes have also been launched for scientific management and wise use of fragile ecosystems. Specific programmes for management and conservation of wetlands, mangroves and coral reefs systems are being implemented. National and sub-national level committees oversee and guide these programmes to ensure strong policy and strategic support.
Ex-situ conservation
Attention has been paid to ex-situ conservation measures also as they complement the in-situ conservation and are even otherwise important. There are about 70 Botanic Gardens including 33 University Botanic Gardens. Also, there are 275 centres of ex-situ wildlife preservation in the form of zoos, deer parks, safari, parks, aquaria etc. A Central Zoo Authority supports, oversees, monitors and coordinates the management and the development of zoos in the country. A scheme entitled Assistance to Botanic Gardens provides one-time assistance to botanic gardens to strengthen and institute measures for ex-situ conservation of cultivated plants and domesticated animals. While zoological parks have been looked upon essentially as centres of education and recreation, they have played an important role in the conservation of species such as Manipur Thamin Deer and the White-Winged Wood Duck.
HOT SPOTS – AN INTRODUCTION
Biodiversity is not distributed uniformly across the globe. Some habitats, particularly tropical forests among terrestrial systems possess a greater number or density of species than others. Thus a 13.7 sq km area of the La Selva Forest Reserve in Costa Rica contains almost 1,500 plant species, more than the total found in 243,500 sq km of Great Britain, while Ecuador harbours more than 1,300 bird species, or almost twice as many as the USA and Canada combined (Myers, 1988). It is widely accepted that the identification and prioritisation of important centres of biodiversity are necessary at both the national and the global scale for conservation action. A number of methods by which such areas could be determined have been suggested.
The most widely accepted approach of suggesting target areas for conservation action is to identify areas with the greatest number of endemic or restricted-range species. An endemic species is one restricted to some given area, which might be a mountain top, a river, a country or continent.
An important study that has attempted to use endemic species to identify areas of global conservation concern was that of Myers (1988, 1990). Focusing on tropical forests, Myers identified 18 regions or 'hot spots' that are characterised by high concentration of endemic species and are experiencing unusually rapid rates of habitat modification or loss. Together, these 18 sites contain approximately 49,955 endemic plant species, or 20% of the world's recorded plant species, in only 746,400 sq km or 0.5% of the earth's land surface.
HOT SPOTS IN INDIA
India has two of the 18 identified 'hot spots'. These are : Eastern Himalaya and Western Ghats.
Eastern Himalayas
Phytogeographically, the Eastern Himalaya forms a distinct floral region and comprises Nepal, Bhutan, neighbouring states of east and north-east India, and a contiguous sector Yunnan province in south western China. In the whole of Eastern Himalaya, there are an estimated 9000 plant species, with 3500 (i.e. 39%) of them being endemic. In India's sector of the area, there occur some 5800 plant species, roughly 2000 (i.e. 36%) of them being endemic.
At least 55 flowering plants endemic to this area are recognised as rare, for example, the pitcher plant (Nepenthes khasiana).
The area has long been recognised as a rich centre of primitive flowering plants and the area is recognised as 'Çradle of Speciation'. Species of several families of monocotyledons, Orchidaceae, Zingiberaceae and Arecaceae abound in the area. Gymnorperms and pteridophytes (ferns) are also well represented in the area.
The area is also rich in wild relatives of plants of economic significance, e.g. rice, banana, citrus, ginger, chilli, jute and sugarcane. The region is regarded as the centre of origin and diversification of five palms of commercial importance namely, coconut, arecanut, palmyra palm, sugar palm and wild date palm.
Tea (Thea sinensis) is reported to be in cultivation in this region for the last 4000 years. Many wild and allied species of tea, the leaves of which are used as substitute of tea, are found growing in the North East in their natural habitats.
The 'taxol'plant Taxus wallichiana is sparsely distributed in the region and has come under red data category due to its over exploitation for extraction of a drug effectively used against cancer.
As regards faunal diversity, 63% of the genera of land mammals in India are known form this area. During the last four decades, two new mammals have been discovered from the region : Golden Langur from Assam – Bhutan region, and Namdapha flying squirrel from Arunachal Pradesh indicating the species richness of the region.
The area is also a rich centre of avian diversity – more than 60% of the Indian birds are recorded in the North East. The region also has two endemic genera of lizards, and 35 endemic reptilian species, including two turtle. Of the 204 Indian amphibians, at least 68 species are known from North East, 20 of which are endemic.
From Namdapha National Park itself, a new genus of mammal, a new subspecies of bird, 6 new species of amphibia, four new species of fish, at least 15 new species of beetles and 6 new species of flies have been discovered.
Western Ghats
The Western Ghats region is considered as one of the most important biogeographic zones of India, as it is one of the richest centres of endemism. Due to varied topography and micro-climatic regimes, some areas within the region are considered to be active zones of speciation.
The region has 490 arborescent taxa, of which as many as 308 are endemics. This endemism of tree species shows a distinct trend, being the highest (43%) in 8N – 100 30'N location and declining to 11% in 16 N – 160 30'N location.
About 1500 endemic species of dicotyledonous plants are reported from the Western Ghats. 245 species of orchids belonging to 75 genera are found here, of which 112 species in 10 genera are endemic to the region.
As regards the fauna, as many as 315 species of vertebrates belonging to 22 genera are endemic, these include 12 species of mammals, 13 species of birds, 89 species of reptiles, 87 species of amphibians and 104 species of fish.
The extent of endemism is high in amphibians and reptiles. There occur 117 species of amphibians in the region, of which 89 species (i.e. 76%) are endemic. Of the 165 species of reptiles found in Western Ghats, 88 species are endemic.
Many of the endemics and other species are listed as threatened. Nearly 235 species of endemic flowering plants are considered endangered. Rare fauna of the region includes : Lion Tailed Macaque, Nilgiri Langur, Nilgiri Tahr, Flying Squirrel, and Malabar Gray Hornbill.
CONSERVATION EFFORTS IN HOT SPOTS
A number of programmes are currently being implemented for conservation and sustainable utilisation of biodiversity in the two 'hot spots'. These include survey and inventorisation, in-situ conservation through protected area network, and ex-situ conservation. In addition, the Ministry also supports biodiversity-related research in the two hot-spots. A brief account of these efforts is given below.
Eastern Himalaya
The Botanical Survey of India through its Sikkim Himalayan Circle in Gangtok and Arunachal Field Station in Itanagar, is engaged in botanical exploration, inventorisation and documentation of the plant diversity of Eastern Himalaya. About 6000 species of flowering plants have been inventorised so far from the region and two publication namely 'Flora of Sikkim Vol.I Monocotyledons', and 'Flora of Arunachal Pradesh Vol.I Dicotyledons', have been brought out.
The faunal survey of Eastern Himalaya has been carried out by the Zoological Survey of India through its Arunachal Pradesh Regional Station in Itanagar. State Faunas of Sikkim, Meghalaya, Tripura and Mizoram and Fauna of Namdapha Biosphere Reserve have been published by ZSI.
Some of the important national parks and sanctuaries in the eastern Himalayan region are Beara Valley and Singalile National Parks, Senchal and Jorpokhari sanctuaries in West Bengal; Mouling, Namdapha, Kamlang, Sessa Orchid, D'Ering, Mehao, Debang Valley, Itanagar, Eagles Nest and Pakhui in Arunachal Pradesh and Kanchendzonga, Fambong Kyongnosala, Maenam and Singalia in Sikkim.
Four Biosphere Reserves have been designated in the Eastern Himalayan region. These are Nokrek in Meghalaya, Manas and Dibru Saikowa in Assam and Dehang Dibang in Arunachal Pradesh.
Five botanic gardens in this region have been supported by the Ministry for strengthening their infrastructural facilities to undertake ex-situ conservation of endemic plant species.
The Tura Range in Garo Hills of Meghalaya is a gene sanctuary for preserving the rich native diversity of wild Citrus and Musa species. Sanctuaries for rhododendrons and orchids have been established in Sikkim.
In order to understand ecosystem functioning and to scientifically manage protected areas, a number of research projects are being supported in the region. GB Pant Institute of Himalayan Environment and Development of the Ministry of Environment and Forests undertakes action oriented research for development of technologies and demonstration packages towards sustainable development of Himalayan regions suited to local specificities. This Institute has a regional centre in Gangtok.
A proposal to set up an Institute of Biodiversity Studies in Arunachal Pradesh for focussing on biodiversity conservation and sustainable utilisation is under the consideration of the Ministry.
Western Ghats
The phytodiversity of Western Ghats is explored, identified and documented by the Southern and Western circles of BSI located at Coimbatore and Pune, respectively. This documentation has been published in the form of District and State Floras such as Flora of Karnataka: Analysis (Vol.I), Flora of Tamil Nadu: Analysis (Vol.1-3), Flora of Maharashtra: Monocotyledons (Vol.1), Flora of Goa (two volumes), Flora of Kerala (Grasses), Flora of Cannanore, Flora of Thiruvananthapuram, Flora of Palaghat, Flora of Nasik and Flora of Mahabaleshwar.
Faunal surveys of Western Ghats are being conducted by ZSI through its Regional Stations in Pune, Chennai and Kozhikode. A doument on faunal diversity of Nilgiri Biosphere Reserve is in the final stage of printing.
Some of the protected areas declared as National Parks and sanctuaries include Sanjay Gandhi National Park, Bhimashankar, Shandioli, Chaprala, Koyna, Shivpuri – sanctuaries of Maharashtra; Bhagvan Mahavir National Park, Molem, Bondla, Cotigao sanctuaries in Goa; Nagarhole, Bandipur, Bhadra, Brahmagiri, Sharavati, Shettihalli and Someswar in Karnataka; Periyar Silent Valley, Idukki, Parambikulam, Peppara and Wynad in Kerala and Madumalai and Nilgiri tahr sanctuary in Tamilnadu.
Nilgiris region in the Western Ghats contiguous in three States (Karnataka, Kerala and Tamilnadu) has been designated as a Biosphere Reserve. Twelve research projects are presently being funded in the Nilgiri Biosphere Reserve.
Eighteen botanic gardens in the Western Ghats region have been supported by the Ministry of Environment and Forests on plant species.
Under the Centre of Excellence programme, the Centre for Ecological Sciences (CES), Bangalore and the Tropical Botanic Garden and Research Institute (TBGRI), Thiruvananthpuram are being supported by the Ministry. The CES conducts research in frontline areas of basic and applied ecology and ecology-related extension programmes of Western Ghats. The thrust areas of activities of TBGRI are conservation and sustainable utilisation of tropical plant diversity, with emphasis on medicinal plants.
CONVENTION ON BIOLOGICAL DIVERSITY (CBD)
Accelerated loss of biological diversity became a cause of concern for global community in 1980s and this concern eventually fructified in a global treaty entitled "Convention on Biological Diversity (CBD)" at the UNCED Earth Summit held in Rio de Janerio, Brazil in June 1992. The Convention has 174 Parties at present.
India became a Party to the Convention in May 1994. The three objectives of the Convention are (i) Conservation of biological diversity, (ii) sustainable use of components of biological diversity and (iii) fair and equitable sharing of benefits arising out of the utilisation of genetic resources. The main implementation measures for the CBD are to be through national strategies, legislation and administrative instruments to be developed in accordance with each country's particular conditions and capabilities. Pursuant to its ratification on 18 February 1994, steps have been initiated to meet the commitments/opportunities offered by it.
Adopting a consultative process with the stakeholders, a draft of a National Policy and Action Strategy on Biological Diversity has been drawn up as a macro-level statement of strategies, gaps and further actions needed for conservation, sustainable use and realisation and actual potential value of biological diversity. This plan aims at consolidating on-going efforts of conservation and sustainable use of biological diversity, identifying gaps in various sectors and providing a policy and programme regime to ensure attainment of the three objectives of the CBD. Concrete steps to turn the strategy into action are now being taken. Identifying critically important areas and gaps in taxonomic work, All India Coordinated Project has been drawn up for prioritised purpose-oriented capacity building in taxonomy. This project is being further processed to access required funds. To encourage taxonomic work, a national award in taxonomy is being instituted.
India's richness in biological resources and indigenous knowledge relating to them is well recognised. One of the major challenges before India lies in adopting an instrument which helps realise the objectives of equitable benefit sharing enshrined in the Convention. India has been developing a biodiversity legislation which aims at regulating access to biological resources and making such access subject to terms and conditions which secure equitable sharing of benefits for the resources accessed. This is being done through a consultation process with the stakeholders, local people, industry, practitioners of indigenous systems of health care and medicine, technical and academic institutions, state governments, institutions of self government, trade and business. A draft outline of biodiversity legislation has been prepared and is under finalisation.
Numbers of endemic species present in 18 'Hot Spots'

------------------------------------------------------------------------------------------
Region                          Higher          Mammals         Reptiles        Amphibi
                                Plants                                          ANS
------------------------------------------------------------------------------------------
Cape Region (South Africa)      6000             15                43              23
Upland Western Amazonia         5000             -                 -               70
Atlantic coastal Brazil         5000             40                92             168
Madagascar                      4900             86               234             142
Philippines                     3700             98               120              41
Borneo (north)                  3500             42                69              47
Eastern Himalaya                3500             -                 20              25
SW Australia                    2830             10                25              22
Western Ecuador                 2500              9                -               -
Colombian Choco                 2500              8               137             111
Peninsular Malaysia             2400              4                25               7
Californian floristic province  2140             15                15              16
Western Ghats (India)           1600              7                91              84
Central Chile                   1450             -                 -               -
New Caledonia                   1400              2                21               0
Eastern Arc Mts (Tanzania)       535             20                -               49
SW Sri Lanka                     500              4                -               -
SW Cote d'lovire                 200              3                -                2
------------------------------------------------------------------------------------------
Total                          49955            375               892             737
------------------------------------------------------------------------------------------