Ten years of the Montreal Protocol
Professor Saifuddin Soz, Minister for Environment and Forests
---
Given below is an abridged version of a speech delivered by Professor Saifuddin Soz at the Ninth Meeting of Parties to the Montreal Protocol, held at Montreal on September 15-17, 1997.
I congratulate you, Mr. President, on your election to the Chair of this Ninth Meeting of the Parties, which is taking place at a historic moment in our endeavour to protect the ozone layer. Ten years of collective effort does call for celebration and also introspection. We have many achievements to our credit and also several challenges which are still to be overcome. Before looking at the global scenario, I must first look at the achievements and challenges in my own country. India has been an active participant in the Montreal Protocol meetings even before it formally joined the Protocol in 1992. We had significant concerns which led to our late joining of the Protocol. Some of these concerns are still valid today. I will come back to this issue later.
Soon after joining the Protocol, concerted efforts were made to create awareness on the issue and to motivate Indian industry to come up with phase-out projects. We could foresee certain problems and had, accordingly, set up internal systems for processing and implementation of phase-out projects. Many of these concerns have subsequently been felt by the Montreal Protocol system as a whole. Our emphasis on certifying ODS consumption in phase-out projects and our system of granting duty exemptions for equipments needed for such projects are only two such examples. This had initially delayed expeditious preparation and implementation of projects. These systems are now well set and the implementation of projects is moving into higher gear.
Our approach has been to take concrete actions rather than to make unrealistic promises. Financial institutions were motivated to disallow new investments with non-ODS technologies as early as in 1995. We went ahead and brought imports and exports of ODS under a licensing system soon after the decision was taken in December 1995. It is only in this meeting that a formal proposal to amend the Protocol is being considered. We did not stop at licensing. We decided to ban CFC exports to developed countries with a view to help them in their efforts in checking illegal trade. Mr President, I am happy to inform that CFC consumption in India has largely remained constant during the last three years. We want to bring in regulations well before the 1999 freeze. Our success in this task is dependent on speedy resolution of some of the pending issues.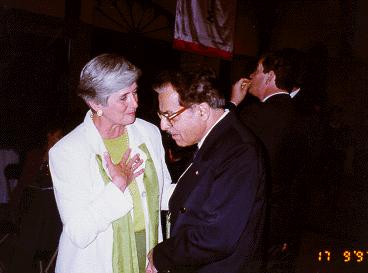 Professor Saifuddin Soz, Minister of Environment & Forests, in conversation with Ms. Christine S. Stewart, Minister of Environment of Canada, during his visit to Canada on the occasion of the International Ozone Day and the Tenth Anniversary of the Montreal Protocol on Substances that Deplete the Ozone Layer.
Mr. President, we still have many challenges to overcome. I am sure that none of us would want to create gaps and loopholes in the Protocol and thereby undermine ODS phase-out in the developed countries. The need to protect the ozone layer has to be also seen in its proper context which is to protect human health. It will be unfortunate if our decisions create a situation where the health care of millions in developing countries is compromised due to increase in the cost of treatment of asthma. The developing countries have demonstrated their commitment to the Protocol by accelerating the phase-out wherever feasible. This commitment should be rewarded and not punished. The Protocol needs stability. There are adequate provisions to review the phase-out schedule every four years. Frequent changes in this schedule convey a very negative message and create significant difficulties at the field level.
Mr. President, we have expressed concerns on several occasions on resources required for changing over to ozone friendly technologies. We have voiced our concerns about financial assistance both in this forum as well as in the executive committee in the past. We will continue to do so in forums where specific issues are discussed. Mr. President, it is unfortunate that the guidelines for funding projects for closure of ODS production facilities are taking too long to be finalised and that adequate time and attention is not being given to this important matter. Moreover, discussions have not even started for preparing guidelines for funding projects for production of ODS substitutes. When the financial mechanism was negotiated in London in 1990, everyone was concerned about avoiding deindustrialisation and loss of export revenue. I am confident that future discussions on the subject will move more speedily and in the right direction.
Mr. President, we are very much concerned about the transfer of ozone friendly technologies. We were hopeful that the amendment on transfer of technology adopted in London would bear fruit. It remains a significant concern. We look forward to the day when the technology to produce 134a and non-CFC Metered Dose Inhalers (MDIs) will actually be transferred to enterprises in the developing countries on fair and most favourable conditions.
Mr. President, we seek cooperation of enterprises in the developed world so that products made with ODS and equipments to make such products are not exported to the developing countries. Also, it will help in phasing out ODS if these enterprises, or their subsidiaries, do not set up new capacities to produce such products in the developing countries. We are confident that their cooperation will be readily forthcoming and that there will not be any opportunity for us to take legal action after our regulations are in place.
All of us need to take a serious view in the very near future that enormous amount of capital stock in the developing countries does not have to be discarded prematurely. Either funds will have to be provided to convert such equipments to non-ODS technlogies or ODS will have to be made available for servicing of these equipments in such a manner that it does not cause financial burden on the developing countries.
Unemployment is a serious issue not only in the developing countries but also in the developed world. It will be very unfortunate if in order to protect the ozone layer, thousands of small enterpreneurs in the developing countries go out of business. We hope full incremental costs to small and medium enterprises will be available in the very near future.