India's Stand on the Montreal Protocol
---
There was an Inequity in the Protocol regarding the baseline for controlling production of Ozone Depleting Substances (ODS). This baseline for the developed countries related to production of ODS in the reference year. However, for the developing countries it related to consumption of ODS in the relevant reference year. India had made a proposal to modify the baseline to remove this inequity. The proposal was adopted by the Meeting of the Parties. Its net effect will be that CFC producers in India will be able to export CFCs on an equal footing viz-a-viz CFC producers in the developed countries.
Simultaneously, the meeting decided to request the executive committee to finalise guidelines for funding projects for phasing out production of ODS at the earliest.
The meeting also decided to amend the Protocol to make it mandatory to import and export ODS only under license. This will significantly help in preventing illegal trade in CFCs. Consistent with other provisions of the Protocol, the developing countries have been provided with additional time to incorporate this change in respect of methyl bromide and HCFCs. The developing countries will also get assistance from the Multilateral Fund for implementing the licensing system. India made a significant contribution in ensuring that such flexibilities were provided to the developing countries.
The developing countries use refrigeration and air conditioning equipments for over 20-30 years as against the developed countries where these equipments have a life of only a few years. India made a strong plea for avoiding premature retirement of such equipments in the developing countries. India urged that, if necessary, the protocol be modified to provide for continued production and use of CFCs for servicing of such equipments. This issue is likely to be formally discussed in 1999.
The Minister had bilateral discussions with the Minister for International Co-operation of the Government of Canada.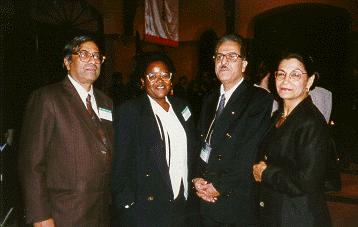 Professor Saifuddin Soz, Minister for Environment & Forests, and Mr. Vinod Vaish, Additional Secretary, MoEF with delegates during the Ninth Meeting of Parties to the Montreal Protocol held at Canada.