TIT-BIT NEWS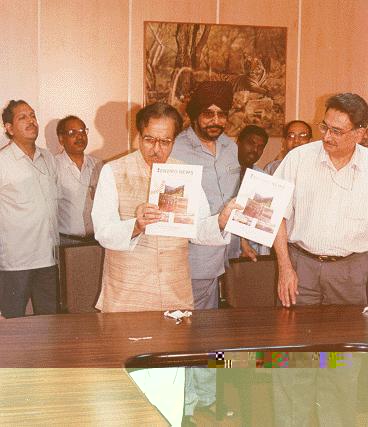 Professor Saifuddin Soz, Minister for Environment & Forests, releasing the inaugural issue of 'ENVIRO NEWS' at a press conference held on September 5, 1997. On his left is Mr. Vishwanath Anand, Secretary (E&F). Other senior officials of the MoEF are in the background.
---
---
On the recommendation of the Conference of State Forest Secretaries, Principal Chief Conservators of Forests and Chief Wildlife Wardens of all States and UTs held on 25-26 September, 1997, this Ministry constituted following four Expert Committees on 21.10.1997:
Expert Committee to review the implementation of National Forest Policy and suggest changes, if required.

Expert Committee to suggest the implementation of the provision of Panchayat (Extension to the scheduled Area) Act, 1996 in respect to conferring ownership right of Minor Forest Produce to Panchayats/Gram Sabha in Schedule-V Areas.

Expert Committee on preparation of Working Plans in consultation with the Central Government.

Expert Committee to review the afforestation policies and rehabilitation of wastelands.




Information about the Ministry of Environment and Forests is now available on the Internet. The ministry's home page contains at present basic details about the organisational structure of the ministry, including the names, responsibilities and functions of the various divisions, auxiliary bodies, associated offices and autonomous agencies of the ministry. It also contains the complete addresses, telephone and telefax numbers etc of the associated and autonomous bodies of the ministry located in different parts of the country to enable the user to access a particular organisation of the ministry directly. Detailed information about the Environmental Information Systems (ENVIS) of the ministry, including the list of ENVIS centres, with their areas of specialisation and complete addresses is also provided.

Future plans for development of the ministry's website include a substantial increase in the information content of the home page and its regular updation.

The ministry's home page can be browsed at this URL: http://www.nic.in/envfor

Information on ENVIS can be browsed at this address: http://www.nic.in/envfor/envis





On September 29, 1997 the Regional Museum of Natural History was inaugurated in Bhopal. The museum is the central regional office of the National Museum of Natural History, New Delhi, a pioneer organisation in the field of non-formal environmental education through the visual media. The museum, with its diversified modes of exhibition and educational practices, dramatically presents our unique world, the diversity of plants and animals that surround us and the intricate network of nature that sustains the very existence of life on earth. Designed to meet the requirements of non-formal environmental education in central India, the museum has a large gallery on Nature's Network, giving a glimpse of the natural wealth, a temporary exhibition hall, a discovery centre for the younger generation to explore the wonders of the world, a bioscience computer centre to enrich our understanding of nature on a global perspective and daily film shows, guided tours of the museum etc.

The opening of the museum will set rolling a variety of educational programmes which would add great impetus towards increasing environmental concern and sensitising masses on various environmental issues.





Twenty three ENVIS Centres have been functioning till now. One more has been added to this list. A new ENVIS Centre on "Panchayati Raj and Environment" has been set up at the Indian Environmental Society, New Delhi.





INFOTERRA, the global information network of the United Nations Environment Programme, through its network of 174 participating countries has been providing substantive information on environment to its users all over the world. ENVIS at the Ministry of Environment and Forests, New Delhi, India, has been designated INFOTERRA's National Focal Point (NFP) for India and Regional Service Centre (RSC) for the South Asia Sub-region. It provides referral as well as substantive information in the form of bibliographies, photocopies of the relevant reports/reprints etc.

For seeking any information related to environment, please send queries to:


Senior Adviser (ENVIS)
Ministry of Environment & Forests,
Paryavaran Bhawan,
C.G.O. Complex, Lodi Road,
New Delhi - 110 003