Five Point Action Programme Suggested to Power Organisations for Environmental Protection
---
The Minister of Environment and Forests, Shri T.R. Baalu has outlined a 5-point action programme for Power sector organisations and National Thermal Power Corporation (NTPC) for protection and conservation of environment to achieve environmentally sustainable production of power. Speaking at the Conference on "Power Plant Operation, Efficiency and Environmental Protection" in New Delhi on February 08, 2000, Shri Baalu emphasised that development has to continue on a sustainable basis and, therefore, organisations like NTPC should look forward to employing clean technologies to reduce emissions of CO2 and resource optimisation.
Observing that Indian coal is known for its high ash content, the Minister, as a first step, called for proper utilisation of flyash for various purposes such as brick-making, road construction and back-filling of mines. The NTPC should initiate a dialogue with various coalmines to see the technical and scientific feasibility for back-filling of excavated mines with flyash.
Secondly, Shri Baalu recommended that NTPC should install the dry flyash collecting system in its older plants also. He pointed out that the old power plants do not have the provision of dry flyash collection and, therefore, the entire flyash is being disposed in the form of slurry in ash disposal sites, requiring a sizeable quantity of water for its conveyance.
Thirdly, the Minister said that NTPC, being the major user of power-grade coal, should take initiative in setting up of washeries for using beneficiated coal as its use is a good preposition in terms of economics and power performance.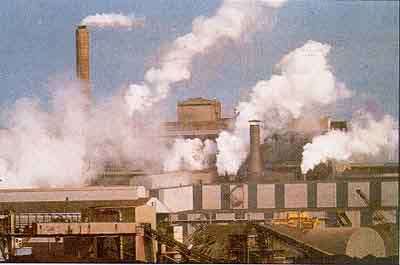 Air Pollution caused due to emissions
Fourthly, NTPC should ensure efficient functioning of Electro-static Precipitators for controlling of suspended particulate matter around power stations, the Minister added.
Lastly, expressing his concern at high water consumption by the thermal power plants, Shri Baalu emphasised the need for selecting proper processes and technologies for ensuring conservation of water by the power plants.
Shri Baalu also pointed out that NTPC has a social obligation in addition to power production. "The rehabilitation and resettlement of project-affected people should be a priority area. Adequate compensation has to be ensured along with the regular income facilities for this group of people. The facilities created like schools, hospitals etc. should be allowed to be shared by the community around the power project as far as possible. In fact, encouragement may be given to formation of cooperative societies and with provision of soft loans to the communities to start business in brick making and allied activities", he said.
Speaking on the occasion, Minister of Power, Shri P.R. Kumaramangalam stressed the need for paying adequate attention for employing clean technologies and technology upgradation for generation of power. Observing that waste of energy has become a sort of habit due to excessive consumption pattern, the Minister said that energy has to be utilised efficiently. The consumer is also aware that he is entitled to reliable and adequate energy and he is prepared to pay a reasonable price for the same. Shri Kumaramangalam disclosed that a decision has been taken to float a special purpose vehicle under NTPC to keep aside one per cent of capital cost of new power plants for environmental protection and afforestation.