Successful Technologies for Improvement of Drylands in India
---
- Dr.H.P.Singh, Director, Central Research Institute for Dryland Agriculture (CRIDA), Hyderabad.
Drylands in India suffer from both bio-physical and socio-economic constraints. Frequent droughts and poor soils lead to low yields and crop failures. Erosion and deforestation further accentuate these problems resulting in fodder scarcity for livestock in the region. The Central Research Institute of Dryland Agriculture (CRIDA) has evolved a number of land based technologies which not only conserve the precious resources of soil and water but also stabilise crop productivity. These technologies have been successfully utilized in a number of model watersheds in India which led to the launching of the National Watershed Development Programme for Rainfed Areas (NWDPRA) during the Ninth Five Year Plan.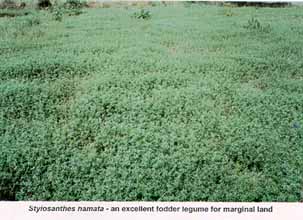 Two successfully employed technologies are explained below:
1. In-situ Moisture Conservation
The Institute evolved a large number of in situ moisture conservation practices tailored to different soil types and rainfall pattern prevalent in the country. These have contributed to high yields in dryland crops from 10-35 per cent. The most notable examples are contour farming in shallow red soils, compartmental bunding in shallow black soils, inter plot water harvesting in alluvial soils in high rainfall regions and raised bed and sunken system in deep vertisols. Adopted in combination with other practices, such as organic manuring and fertilizer use, these have led to substantial improvement in yields. Vegetative barriers are also an effective inter-terrace land treatment in place of earthen barriers.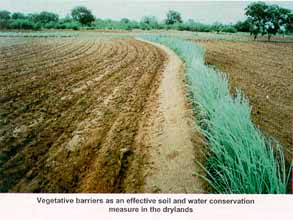 2. Management of Degraded Lands
Substantial portion of the drylands are usually not suitable for crop production. CRIDA has developed a number of alternate landuse systems where such marginal land can be put to productive use for augmenting fodder and fuel needs. CRIDA has developed systems integrating crops, trees, fruit trees, pastures to optimise production. One such system which has become very popular with the farmers of Southern and Central India is the production of fodder species Stylosanthes hamata on degraded marginal land. CRIDA has developed a complete technology package of seeding, fertilizer application, harvesting and management of Stylosanthes hamata in marginal land.