Imbalances in Global Economic Growth damaging Environment
---
The Hon. Prime Minister stresses the need to broaden Environmental Protection as a People's Movement in his speech on the World Environment Day - June 5, 1999.
The Prime Minister, Shri Atal Bihari Vajpayee has called for radical changes in the international financial and trading systems, so as to bridge the gulf between developing and developed nations and to halt the worsening conditions of want in developing nations which are not only a source of social discord but also of environmental degradation.
Speaking at a function to mark the World Environment Day in New Delhi, the Prime Minister cautioned that if the rich nations continued to put unrelenting pressure on our planet's limited and non-renewable resources and if the present glaring imbalances in global economic growth continued, it would be difficult to prevent the damages to the environment on a universal scale.
He regretted that ironically it is the poor who have to pay a heavier price for the guilt of the rich. Stressing that there was no basic conflict between development and environmental protection, the Prime Minister called for broadening and deepening the sweep of environmental protection as a people's movement. The following is the text of the Prime Minister, Shri Atal Bihari Vajpayee's speech on the occasion:
I am happy to be with all of you on the occasion of World Environment Day. It is a day to show our gratefulness to Mother Nature, which sustains human life on our planet. It is also a day to focus our attention on our collective failure to protect the environment, which has endangered sustainable development for the human race.The theme of this year's World Environment Day starkly captures this concern. It tells us : "Our Earth, Our Future. Just Save it". This is an urgent appeal to each one of us to recognize the gravity of the challenge and to renew our pledge to take remedial action.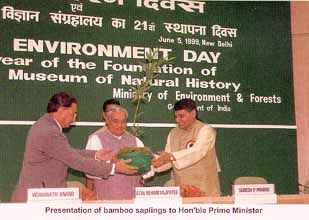 Conservation and protectionof the environment have been the cornerstones of Indian ethos and culture. Our spiritual heritage teaches us that respect for nature is a precondition for peace and harmony in life. The first lessons in sustainable and non-violent development were learnt by our society when our sages guided us to see sacredness in everything in nature.
The prayer in the Atharva Veda states : "What of thee I dig out, let that quickly grow over. Let me not hit thy vitals or thy heart." Hence, a traditional Indian who worships a tree is not promoting any superstition. Rather, consciously or unconsciously, he is spreading the message of environmental conservation.
In spite of this cultural tradition, the state of the environment in India today ought to be a cause of deep concern to all of us. Many of our cities are among the most polluted in the world. Our rivers at many places - including in Delhi - have become highly dirty. Our forest cover is rapidly depleting.
Soil erosion and degradation have become a major problem in our agriculture. The amenities for safe drinking water and sanitation are so inadequate for the poor in cities and in villages that they are harming their health and happiness. Already, the water table is dropping so fast in many places that we may not have enough water for all our needs in the coming decades.
It is clear that we as a nation cannot postpone urgent introspection on our path of development in the past 50 years.
No doubt, we have many achievements to our credit and we should be proud of them. But perhaps one of our greatest failures has been the neglect of the environment even as we went ahead with the industrialisation and urbanisation in India.
Unless we make amends soon, we will be guilty of making our future generations victims of an environmental and human catastrophe.
Friends, I have deliberately struck a strong note of warning - which, in any case, is not an exaggeration - because I would like the entire nation to become aware of the seriousness of the problem staring us in our faces.
To our friends in industry, I make a fervent appeal today. Don't wait for either the Government or the judiciary to enforce environmental laws. Voluntary and speedy compliance is good for both industry and society.
Do not think of investment in environment-friendly technologies as a burden you can shirk. It is a moral, social and legal obligation you must fulfill. Moreover, it makes good business sense in the medium and long term. Wherever possible–and it is possible in many cases–we should also implement low cost green technologies that are appropriate to our needs and conditions.
We must, of course, not overlook the fact that many of the problems that India and other developing nations are facing on the environmental front are not entirely our own doing.
Industrialised nations cannot absolve themselves of the far greater contribution they have made to environmental degradation around the world. Nations have boundaries, but the environment has none.
If rich nations continue to put unrelenting pressure on our planet's limited and non-renewable resources, and if the present glaring imbalances in global economic growth continue, damages to the environment will be universal, ironically the poor have to pay a heavier price for the guilt of the rich.
On the occasion of the World Environment Day, therefore, India joins the environment-conscious people around the globe in demanding radical changes in the international financial and trading systems.
The gulf between developing and developed nations as also the worsening conditions of want in developing nations are not only a source of social discord but also environmental degradation.
It is heartening to note that awareness about the environment has grown considerably in recent years not only around the globe but also within India. This is due to the combined as well as separate exertions of the government, non-government organisations and international agencies.
Experience, however, shows that people's active participation is the best guarantor of the desired results.
All of us have been talking for a long time about making environmental protection and people's movement. In some places, this has indeed happened. The challenge before us is how to broaden and deepen its sweep.
In this context, it is necessary to emphasise that there is no basic conflict between development and environmental protection. It is impossible to think of one without the other.
Sometimes, however, even genuine developmental projects are opposed in the name of protecting the environment. Some of the critical delays in the completion of infrastructure projects, with huge investment outlays and large scale social benefits are due to this reason. India cannot afford such delays.
Indeed, in a country like India, environmental protection is more likely to become a mass movement if we are able give it a strong development and employment thrust.
I am happy to note that the Ministry of Environment & Forests has followed this enlightened approach in formulating its programmes. For example, its Action Plan to achieve 33 per cent forest cover in the country in a time bound manner would generate large scale employment, particularly in rural areas where it is most needed.
Another scheme has similar thrust of employment and grassroots growth and whose launch I am pleased to announce today – is the augmentation of bamboo resources in the country. Many communities belonging to the weaker sections of society depend on bamboo for their livelihood. This scheme can generate up to 50 lakh mandays of rural employment.
It will specially promote the interest of bamboo workers and boost the production of value added goods for sale in the domestic market. Bamboo products also have a huge untapped potential for export.
However, for this scheme to be really successful, the States will have to change some of their rules and regulations governing bamboo.
I also compliment the Ministry of Environment for launching a special scheme to promote the involvement of rural women in raising forest nurseries through the Integrated Rural Development Programme. The production of high quality seedlings is crucial for the success of all our forest development programmes.
I would like that all the concerned ministries and agencies like the Ministry of Rural Areas and Employment, Ministry of Agriculture, Khadi & Village Industries and Commission, the Planning Commission and the State Governments to synergie their efforts for the successful implementation of these programmes.
Project tiger has been the flagship of our wildlife conservation efforts, India is proud to be the only country in the world to be home to this wonderful animal. But with pride comes the responsibility to protect the tiger for posterity. I am happy that the outlay for this scheme has been raised significantly in the Ninth Plan.
Today is also the Foundation Day of the National Museum of Natural History. This museum has played a key role in sensitising our children about the priceless biodiversity of India.
I am happy that the Ministry has been running many programmes to expose the students of our schools and colleges to the rich flora and fauna of our country. These efforts should be further expanded.
Friends, the Ministry of Environment & Forests has taken many commendable initiatives. The only thing about its work that one might take exception to is that it has been rather silent about its performance.
This, however, is not surprising. The one lesson all of us should learn from our natural environment is how our land and forests and rivers work silently and yet harmoniously, so that life on this planet is sustained generation after generation.
I appeal to every sector of society—governments and non-governmental organisations, individuals and community groups, business and industry, religious organisations, the civil society at large, and particularly the younger generation - to learn from Nature this great quality of silent but ceaseless service. Let all of us do the little things based on thinking globally and acting locally. Each small measures we take is important. No one can do everything, but each of us can do something to help sustain Mother Earth.