Empowering Rural Women with Vocational Skills : An Experience in Bihar
---
- Dr C Prasad, Ex. DDG. ICAR and President, VARDAN, New Delhi, RIOD-INDIA
Bihar is one of the States in the country richly endowed with resources, but unfortunately in terms of human and economic development is lagging behind most other States today. By nature and culture, women are closest to the environment-land, water, plants, animals, and forests. However, in Bihar and elsewhere wrong traditions and social stigma and customs such as the caste system have affected the poorer and weaker sections of the society and particularly their women. The 'upper caste' women in Bihar also remain confined to their homes as a symbol of social status and prestige of not mixing with male member and with 'lower caste'. VARDAN took up the issues of sensitizing the women on development. It was the view that the economic issues would be met with less resistance than social and cultural ones. Initial attempts for organising village meetings met with only partial success. There were intense rivalry and differences from one 'Tola' (hamlet) to another. VARDAN focused on younger women and girls who were desirous of getting training in vocational skills such as tailoring. A Tailoring Training-cum-Production Centre (TTPC) was begun in a doctor's premises free of cost. The tuition fees was a nominal amount. However, as the place was centralised, the teacher was motivated to come for higher earnings from the group of students. In this manner about 150 girls were trained and some have started earning by making local garments besides doing stitching for their families.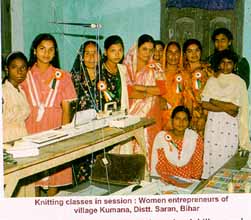 In due course it was realised that there were a number of women in the villages who were qualified and trained in a number of vocational skills but social customs have prevented them from coming out to work. Slowly they began to join in the courses and in teaching technical skills. Then came an advanced entrepreneurship development course for garment making, village crafts and food processing, supported by NABARD, Patna. The number of women aspiring to join the course was far greater than was possible. The family members were happy with their vocational pre-occupations. Women and girls thus trained formed the VARDAN Mahila Sangh with their own office bearers and besides economic activities have initiated some social activities as well.
The success of the courses were given prominence in a function and a few women of the village Panchayat shared the dais with the DM, district Saran, Chapra, Bihar and the CGM, NABARD, Patna - the first time in their tradition ridden social custom. This was a great moment for them and the excitement was shared by their husbands, fathers and other members of the family. The women trainees were also taken to Patna for exposure. As a result of all these efforts, there is a tremendous demand for such training courses and the SHGs with an average of 15 members each with their own office-bearers. More such groups are in the offing. This has created sufficient interest for the Kshetriya Gramin Bank for empowerment of women. Bringing change in a society is a continuous and dynamic process which needs innovative means for bringing in development and progress. VARDAN is presently engaged in starting a Training-cum-Production centre in food processing with value addition to the local food materials.