World Environment Day Function and the 22nd Anniversary of the National Museum of Natural History
---
The World Environment Day function and the 22nd Anniversary of the National Museum of Natural History was held on 5th June, 2000 at Vigyan Bhawan. Distinguished Scientist and former Union Minister of State for Science & Technology, Prof. MGK Menon, while delivering his key note address and NMNH Foundation Day lecture on this year's theme "The Environment Millennium – Time to Act" stated that religious leaders representing various faiths should be brought together in a campaign to inculcate value systems in the people especially the younger generation which would go a long way in checking environmental degradation as environmental sanctity is ingrained in the Indian culture.
He further emphasised that despite a rich cultural heritage that stressed the importance of nature in the daily life, the absence of a well propagated value system had led to the misuse of environment.
The Union Minister for Environment & Forests Thiru TR Baalu, who was the Chief Guest of the day's function, announced a move to raise an Environment Protection Fund and hiking funds for soil and water conservation measures in new afforestation projects in the desert and drought prone areas from 15 to 25 per cent. He said that the Ministry was actively considering water harvesting in view of the unprecedented drought prevailing in several parts of the country and to meet the urgent need for sustainable use of water resources.
Hon'ble Minister of State for Environment & Forests Shri Babulal Marandi, while presiding over the function, gave away prizes to the winners of various competitions organised by the NMNH on the occasion of Earth Day UNEP International Poster Competition and NMNH Summer Programme. The Minister also presented a 'Young Environmentalist Award' to Mr. Puneet Singhal, a school student, to encourage children's participation in environmental awareness activities.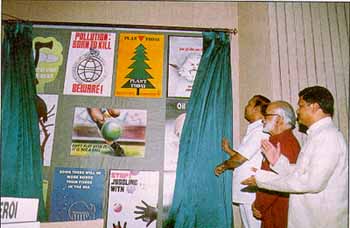 A set of posters on environment being unveiled by Hon'ble MEF in the presence of Hon'ble MOS and Prof. MGK Menon
The prizes for the original writing in Hindi on Environment declared by the Ministry of Environment & Forests were also given to the winners on the occasion.
Andaman & Nicobar Islands are the relics of our Natural Heritage. They are the paradise for tourism. Hon'ble MEF released a book titled "Eco-tourism Paradise – A&N Islands" written by Shri CP Oberoi, I.G. Forests, MOEF.
A set of 12 numbers of Posters on various environmental themes produced by NMNH were also released on the occasion by the Hon'ble MEF.
The programme commenced with the Paryavaran Vandana by the Musical Group of the State Resource Centre, Bhopal, through a song depicting the beauty and divinity of Mother Earth.
The Special Secretary, MOEF Dr. AK Kundra welcomed the gathering and the Director, NMNH proposed a vote of thanks.