Bamboo Mat Board
An Environment Friendly Composite Panel Material
---
Bamboo, a valuable gift of nature to man, is poor man s timber. It is a tree like woody plant which matures for harvesting in two to five years. Bamboo occurs almost in every part of the country except in Kashmir valley and plays a significant role in rural economy. It is used for a variety of purposes right from cradle to grave. It is fascinating to the artist, the poet, the craftsman and to the scientist. It has been aptly described as poor man s timber.
Indian Plywood Industries Research and Training Institute (IPIRTI), Bangalore has developed a technology under a sponsored project by International Development Research Centre (IDRC)/Canada/INBAR for the manufacture of Bamboo Mat Board (BMB) from bamboo mats. BMB is resistant to boiling water, decay, borers and termites. BMB panel poses natural colours of the bamboo, good scratch and fire resistance. Its manufacturing process involves application of specially formulated Phenol Formaldehyde (PF) resin to the mats, assembling the resin coated mats and hot pressing in hydraulic press at specified temperature and pressure. The technology developed ensures the resin application even in the intersliver surfaces of the woven mat, regulating the quantity of the resin at par with other panel products. This technology can be adopted easily in plywood manufact-uring units with simple modifications of existing machinery.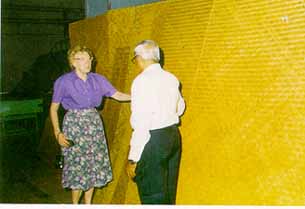 Since the bamboo mats (the main raw material for BMB), are woven manually, the technology has tremendous employ-ment generation potential, particularly for rural women. Its adoption has immense potential to promote plantation of bamboo.
This environment- friendly composite is equivalent to exterior grade phenol formaldehyde bonded plywood in its strength properties. It is a potential alternative to plywood for many applications such as housing, transportation, furniture, storage, panelling, etc. Hence, the adoption will result in reduction of pressure on natural forest.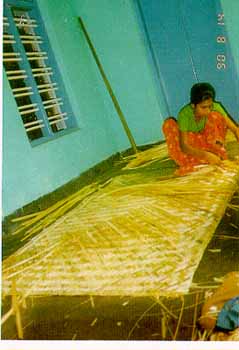 Based on the technology, six units have come up in the country to produce BMB and a few more are likely to be established. Government of India has exempted BMB from excise duty since 1992.
Recognising the technique to be an exemplary demonstration of practical implementation of Agenda 21, the BMB technology has been recommended for registration as an Expo-2000 Project by the Expo-2000 s International Selection Commission.
IPIRTI, Bangalore, an autonomous body under the Ministry of Environment & Forests, where the technology for the manufacture of BMB has been developed, is an internationally recognised Research and Training Institute in the field of composite materials from wood and other lignocellulosic materials.