The Millennium Tiger Declaration
---
Aware of the serious crisis facing the tiger across Asia, more than 150 participants from all over the World gathered in New Delhi for the Millennium Tiger Conference organised by the Ministry of Environment and Forests, Government of India, from 3rd to 5th March 1999. Bhutan, Bangladesh, Malaysia, Myanmar, Nepal, India, Russia, Thailand and Vietnam represented the Tiger Range countries.
In-depth and intensive discussions on the plight of the tiger across its range led to a renewed commitment to restore, protect and increase tiger habitats, reduce the consumption of tiger derivatives and ensure that the Millennium Tiger Declaration creates the necessary climate to save the Tiger.
Realising
That tiger is a symbol of biodiversity and has a right to live in inviolate habitats.

That the protection of the tiger and the con-servation of bio-diversity is a vital national, regional and global concern.

That the support of all governments of the world is essential for tiger conservation and, therefore, environmental and natural resource management policies of tiger range and non-range countries must be consistent with the spirit, requirements and goals of global tiger conservation.

That continuing cooperation between all tiger range countries is a necessary step for the better management of tiger habitats and transboundary initiatives for coordinated management are vital to the safety of tigers.

That the involvement of international conservation organisations, NGOs and the participation of local communities in conservation initiatives are essential to ensure the future of the tiger.

That scientific research projects and sharing of information are exceedingly important for the design of field strategies that will effectively manage population of wild tigers.

That education and awareness across the world is essential in dissuading consumer countries from using tiger products and derivatives.
---
BOX ITEMS
The Millennium Inter-national Tiger Conference was organised by the Ministry of Environment & Forests, Government of India, to commemorate the completion of 25 years of Project Tiger in India and to collaborate much more closely at the international level since many of the threats to tiger conservation originate outside our country. It was also envisaged to chalk out an agreed action plan for ensuring the continued survival of this magnificent species and the varied life forms associated with it.
---
And considering
That because the distribution of tigers across its range spans a great diversity of bio-regions, including many biodiversity hot spots.

That its conservation in nature is provenly a potent means of conserving a wide range of biodiversity.

That considerable habitat for tiger continues to be appropriated by mega-development projects of hydropower, irrigation, mining and the like and the pressures on residual habitats get compounded by the humans displaced by such development interventions.

That the impressive gains of special measures for tiger conservation initiated in the early 70s, particularly in the countries of South Asia, have lately come under threat from habitat shrinkage and degradation as well as from demand for tiger body parts and derivatives from countries outside the region.

That habitat degradation is resulting from excessive livestock grazing and other pressures of increased local population whose community resource base has also shrunk and degraded.

That considerable extent of tiger habitat in the range states lies outside the PA network in the production forests which suffer such degradation not only from pressures of local people but also from forest management induced collection of NTFP.

That large investments are needed to conserve tiger by mitigating pressures on tiger habitat through eco-development, proper buffer zone management around PAs and participatory forestry management in forests outside the PA network.

That as long as there is demand and legal as well as illegal availability of tiger parts and derivatives, it will be virtually impossible to control poaching of wild tigers.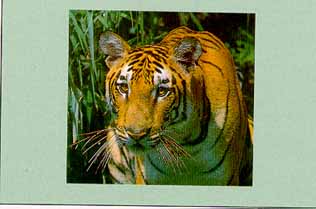 Recommends
That countries of the region that share international borders must co-operate in time bound programmes to manage both tiger populations and habitats in and outside transborder areas and other protected areas.

That all tiger range states strengthen regional co-operation by frequent meetings, exchange programmes, collaborative research and capacity building and share information with respect to the tiger.

That all countries across the world, which may not have tigers, join actively in the effort to save them by supporting tiger range countries with funds and other expertise.

That tiger range countries pursue innovative land use policies that recognise the vital importance of tiger habitats in the sustainable development of the country, thereby ensuring that large scale developmental projects with the potential to destroy tiger habitats are restrained and restricted.

That international donor agencies support innovative tiger conservation initiatives and fund programmes to discourage the use of tiger derivatives in traditional medicine, including finding renewable alternatives and encouraging interface between technical/ scientific experts and user groups.

That national legislation in tiger range and other countries across the world be strengthened and enforced in order to eliminate poaching and illegal trade in wildlife and its consumption in medicines and other derivatives.All countries of the world must enter into proper international conventions like CITES to ensure the elimination of this illegal trade.

That NGOs all over the world focus and intensify their campaigns and interventions to educate and increase public awareness, create political will, lobby for conservation and join hands to save the tiger on the eve of this millennium.

That the range countries supplement their contribution to tiger conservation by evolving mechanisms requiring PA revenues to be reinvested into tiger conservation.

That the model established by the US Rhinoceros and Tiger Labelling Act and the EU CITES Regulations be fully implemented and similar regulations be adopted in all other consumer countries.

That consumer countries to immediately enact and rigorously enforce new and adequate legislation to ban import, export and sale of tiger parts and derivatives.

That effective mechanisms for transboundary co-operation be ensured through

Communication networking;

Exchange of information and expertise;

Training, Research and capacity building;

Wildlife trade monitoring and control;

Compatible management plans for transboundary PAs for coordinated management;

Utilise fully the existing facility ofWildiife Crime Subgroup of the interpol; and

That the role of media in generating public opinion is well recognised and this role needs to be discharged in an effective manner.
The tiger is one of the greatest indicators of the health of our ecological system and is symbolic of the natural treasure of planet earth. The natural heritage of this world and it s protection and conservation is not only a vital concern for us today but will determine the quality of life for future generations of people. Saving wild tigers, therefore, is of vital international concern now and for the future.
The millennium tiger conference pledges on this day to ensure the future survival of the wild tiger.
---
NEAC 1998-99
The last date for completion of activities under the National Environment Awareness Campaign (NEAC) 1998-99 has been extended upto 31st May, 1999 from the earlier date of 31st March, 1999.
---