International Ozone Day
---
The International Ozone Day was celebrated in the FICCI Golden Jubilee Auditorium of the National Museum of Natural History, New Delhi, on 16th September, 1999 on behalf of the Ministry of Environment & Forests, in coordination with the Ozone Cell. This yearís UNEP theme of the International Ozone Day is "Save Our Sky: Be Ozone Friendly".
Shri K V Irniraya, Development Commissioner, Small Scale Industries, was the Chief Guest who gave a talk on the subject related to Ozone layer. Prof. R C Agarwal, Department of Mechanical Engineering, IIT, Delhi, delivered the Keynote Address. Shri Vinod Vaish, Special Secretary of the Ministry of Environment & Forests presided over the function. During the function, posters, stickers and a booklet on the Ozone day were released by Shri K V Irniraya.
On the occasion of the Ozone Day, a temporary exhibition on "Ozone Friendly Products" was held in the exhibition hall of the Museum, from 16.09.99 to 18.09.99, in which various firms participated with their products as exhibits.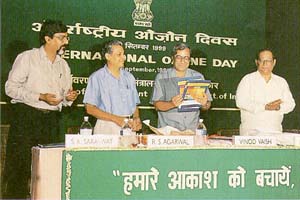 The International Day for the Protection of the Ozone Layer has been celebrated at the national and state level on 16th September 1999. The Ozone Cell in collaboration with the National Museum of Natural History organised the following activities on the International Ozone Day.
Published a booklet on the "Montreal Protocol: Indiaís Success Story" which, apart from detailing the evolution of Montreal Protocol, gives the various initiatives taken by the Government of India to fulfill its obligations of the Montreal Protocol.
Published a poster and wall stickers (10,000), based on UNEPís design, and distributed to industry people, Government officials and students with a view to raise public awareness.
Exhibition of Ozone friendly goods organised for three days.
Telecasted a film on "Montreal Protocol and Ozone Layer" by Doordarshan.
Display of banners in the city for raising awareness.
A media campaign was initiated 05.09.99 and 16.09.99 in the important newspapers of the country to create awareness among small and medium enterprises, urging them to submit conversation projects.
The main function of the Day was organised in Delhi. Shri Vinod Vaish, Special Secretary; Shri K V Irniraya, Development Commissioner; Small Scale Industry; and Prof. R S Agarwal, IIT, Delhi were the key speakers. A video film on "Good practices in refrigeration" produced by UNEP-DIIE was shown to the public at the end of the function.
Press and Media persons were briefed about the theme of the Day and recent developments in implementation of the Protocol in India.