---
Monsoon ends but good news
Reservoirs full 51%, soyabean crop has revived
Sonu Jain
THE INDIAN EXPRESS
[SEPTEMBER 18, 2002]
New Delhi, September 17: The unexpected burst of September rain just before the monsoon withdrew from the plains has cut back the rainfall deficit to just -18%—a far cry from the -30% figure being quoted at the end of July. The spell of rain has also improved levels at the country's 70 reservoirs, and is expected to weave a spell of good over the Rabi crop as well.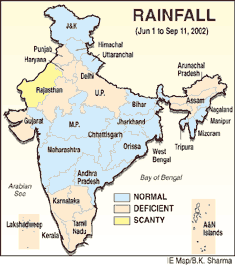 According to the India Meteorological Department (IMD), the monsoon revived considerably in August and in the first week of September. In the week ending September 13, the cumulative rainfall improved by 1% as compared to the previous week.
The reservoirs are a lot fuller than they were last month: at 130.55 billion cubic metres, the reservoirs are now at 51% of their capacity. It's still not as healthy as the 87% figure of last year, but better than at the end of July, when that figure was 50% of last year's average.
While there's still concern over the state of the bajra and jowar crops, paddy and sugarcane are on the road to revival. But Agriculture minister Ajit Singh warned that "even though sugarcane has been sown to its full area, the productivity will suffer by at least 10% because July rains are essential".
The soyabean crop in Madhya Pradesh has revived as well. The groundnut in Rayalseema in Andhra Pradesh is still suffering from moisture stress, but the crop is normal in Gujarat.
Overall, however, there's still a 20% deficiency in the crops being sown. The Central teams are still spread across states, verifying their claims for drought aid. The Centre is likely to revise its allocations after these visits are completed.
What caused this late spell? According to the IMD, a low pressure area formed on September 8 over the northwest Bay of Bengal and Orissa. It remained stationary till September 10 and then moved over to Chhattisgarh and neighbourhood, bringing rain to chunks of Central and North India. By September 14, the rains had reached western Uttar Pradesh.